MUSTBE project aims at significant improvements to urban storm water treatment
The opening meeting of the Multidimensional storm water treatment in urban areas for cleaner Baltic Sea (MUSTBE) project took place in Viimsi on June 19–20. With the aim of enhancing the condition of the Baltic Sea, the MUSTBE project seeks to tackle the issue of stormwater pollution by developing innovative and multi-benefit stormwater management systems.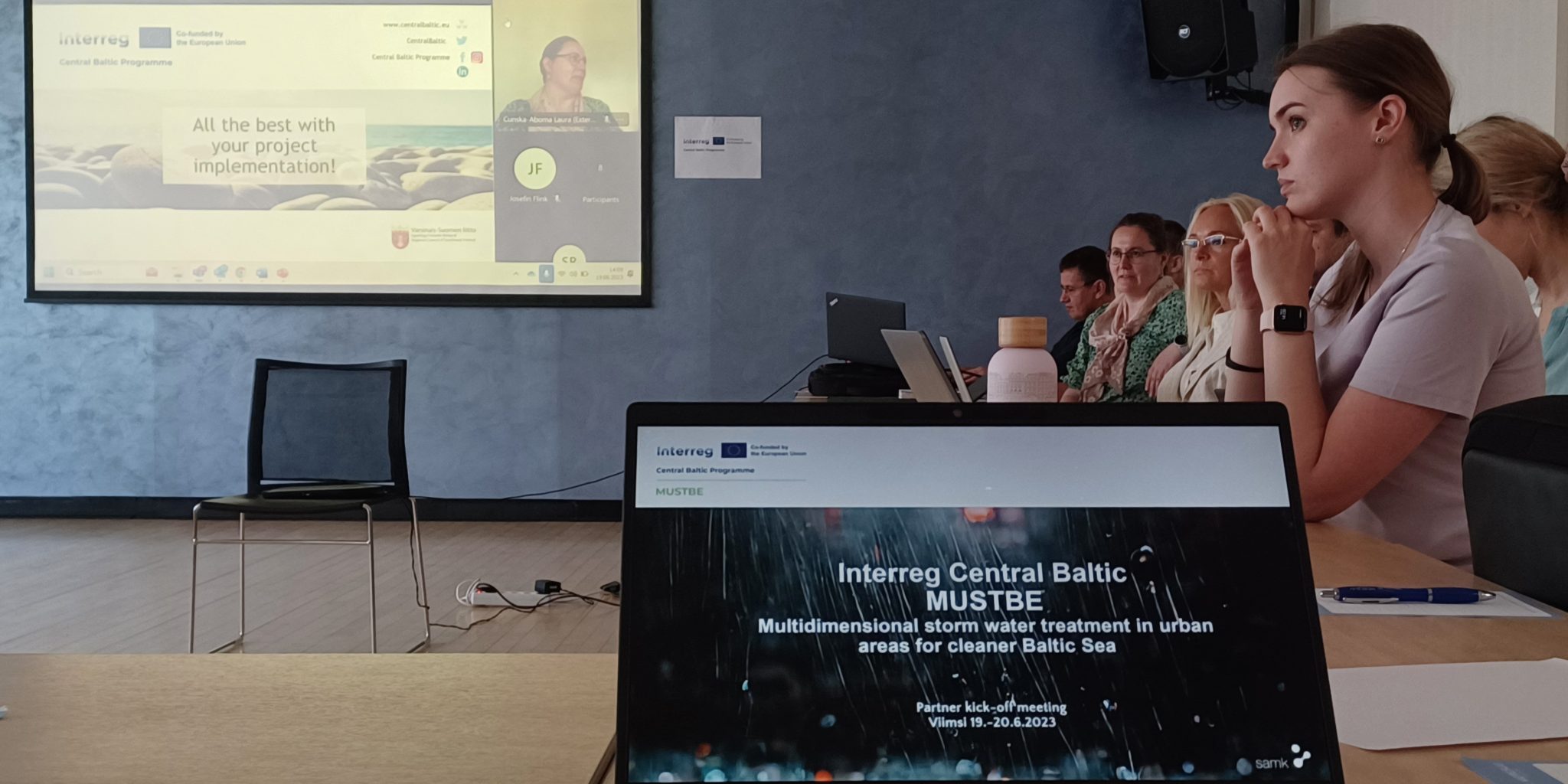 The MUSTBE project is set to revolutionize stormwater treatment by combining nature-based stormwater (NBS) solutions with digital technologies, thus maximizing the effectiveness of the treatment process. By harnessing the power of NBS and leveraging advanced digital solutions, the project partners aspire to not only improve storm water treatment efficacy but also enhance municipalities' capacity to monitor the actual quality of the storm water.
Under the framework of the Interreg Central Baltic program, the European Union provides 80% of the project's funding, amounting to an impressive total cost of 3.98 million euros. Project lead partner is Viimsi municipality government and cooperation partners are Satakunta University of Applied Sciences (Finland), the City of Pori (Finland), Tallinn University of Technology (Estonia), the City of Tallinn (Estonia), Riga University of Technology (Latvia), the City of Riga (Latvia) and Söderhamn municipality (Sweden).
Seven pilot sites
The MUSTBE project sets out to establish seven pilot sites across four countries, serving as testing grounds for the novel storm water management systems. These sites will play a vital role in demonstrating the effectiveness and feasibility of the project's innovative approach.  Project started in May 2023. The first task that all partners started with was water sampling. All pilot site owners took water samples to determine pre-intervention water quality numbers. Baseline numbers were also used to calculate the post intervention target levels for water quality.
The project has an ambitious but reachable goal: by end of April 2026, the amount of pollutants reaching the Baltic Sea is reduced in terms of suspended solids by 60%, nitrogens by 30%, pathogens by 60%, hydrocarbons by 50% and metals by 40%. It is worth noting that the solutions developed within the project are meant to be usable beyond the seven pilot sites.
Want to know more?
For those seeking further information about the MUSTBE project, including its objectives, progress updates, and valuable insights, a dedicated website has been launched at https://centralbaltic.eu/project/mustbe/.
Stay tuned as this groundbreaking endeavor aims to pave the way for a cleaner and healthier Baltic Sea, safeguarding the region's precious ecosystem for future generations!